Insulated refrigerant copper pipes with companion valves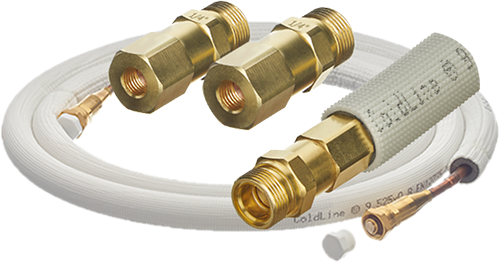 with companion valves of the GENERATION I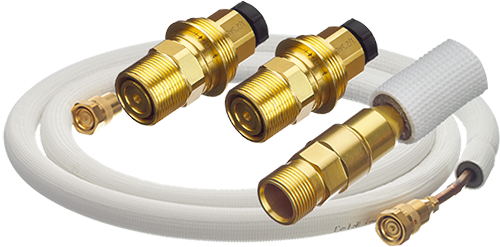 with companion valves of the GENERATION IV
The refrigerator-quality insulated copper lines are manufactured in customized lengths up to 25 m line length. The lines are evacuated or, if required, are delivered prefilled with the appropriate refrigerant.
Technical-constructive features:
The refrigerant lines with closed-cell insulation based on polyethylene meet the requirements of DIN EN 378-2 item 5.3.1.3 Copper and copper alloys and the requirements of DIN EN 12735-1:2020 Copper and copper alloys – Seamless round tubes for air conditioning and refrigeration – Part 1: Pipes for piping systems.
The insulation is encased in a challenging, UV-stable shell. Dimensions and tolerances comply with EN 14313:2015, Tables 1 and 2. The fire behavior corresponds to Euroclass, BL-s1, d0 (flame retardant), classified according to EN 13501-1.