Elastomer refrigerant hoses with companion valves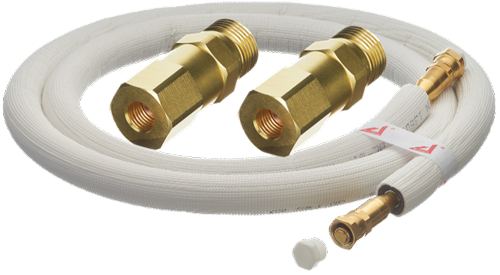 with companion valves of the GENERATION I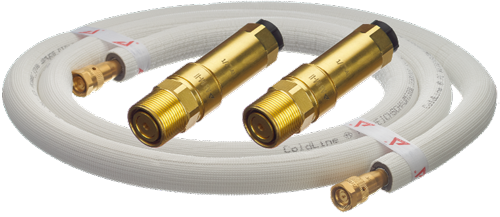 with companion valves of the GEBERATION IV
The elastomer refrigerant hoses are manufactured in customized lengths up to 20 m. The lines with two stop valves are evacuated or, if required, are supplied prefilled with the appropriate refrigerant.
The refrigerant hoses [with closed-cell insulation] based on polyethylene meet the requirements of DIN EN 378-2 item 5.3.1.4 e) Elastomers. In addition, the hoses are manufactured according to SAE-J3062 and meet the needs of the SAE-J2064 standard.
The barrier layer is made of polyamide and the printing substrate of polyester yarn (PET). The sheathing is made of abrasion and weather-resistant synthetic rubber (EPDM). A total of 7 layers ensure functionality, permeability, and moisture ingress rate. The cables were tested according to DIN EN 372-2 point 5.3.2.
The insulation is encased in a challenging, UV-stable shell. Dimensions and tolerances comply with EN 14313:2015, Tables 1 and 2. The fire behavior corresponds to Euroclass, BL-s1, d0 (flame retardant), classified according to EN 13501-1.
Elastomer refrigerant lines have a smaller bending radius than comparable hoses made of thermoplastic material and are more flexible but have higher permeabilities. They are mainly chosen when flexibility and small bending radii are the priority:
for safe, simple and time-saving relocation of refrigeration and air-conditioning systems and heat pumps;
particularly suitable for temporary installations where fixed cable installations are unsuitable